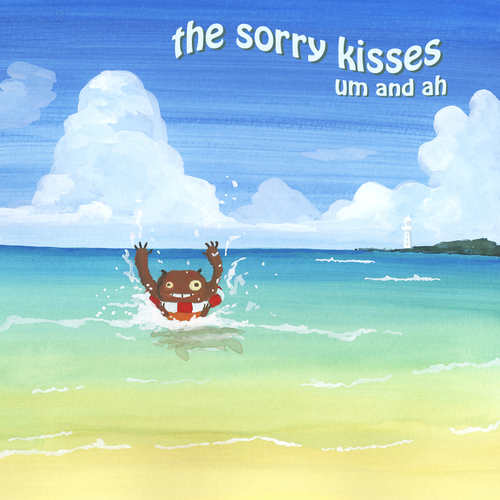 Um And Ah
Available Formats
Tracks
Price
Buy
Download Album (

MP3

)
11 tracks

£

7.99
Description
The Sorry Kisses - Um And Ah
'Um and Ah' is the second full length album release by the UK based musical outfit The Sorry Kisses.

Following the successful release of their debut album 'Hard Drive' on Desert Mine Music in 2008, the core duo, Hayley Hutchinson and Sam Forrest set about writing their second effort.

Whilst maintaining their strict DIY aesthetic and recording everything in the spare bedroom of their house in York, the Sorry Kisses set about expanding their lo-fi sludge-pop sound into bolder and more experimental territory.

The first song to be recorded, 'Ventura Sunset', pays testament to this instantly with its psychedelic backwards guitars and hazy West Coast harmonies.

In fact the whole album can be seen as an ode to the American West Coast as seen through a kaleidoscope of styles ranging from Flaming Lips-esque sun-frazzled pop to heavily opiated 4AD excursions all wrapped up in Hutchinson's Breeders-esque double tracked vocals.

That's not to say that 'Um and Ah' is a victim of style over substance. 'Abandon Ship' is an ocean sized ballad that soars on a wave of heartbroken cellos, whereas the corruscating grunge-fest of 'Fake' and drunken bar room ho-down of 'Bad Habit' cast a withering eye over scenesters, loudmouths and hangers-on the world over.

So once again, The Sorry Kisses have managed to show that despite the limitations of recording an entire album on a laptop in a spare bedroom, when it comes to music, the only limit is your own imagination.

Please note that this album is available only on luxury CDR with homeprinted cover and exclusive plastic wallet!
Reviews
Manchester Music Online...review by JA
ALBUM OF THE WEEK
The Sorry Kisses are Hayley Hutchinson and Sam Forrest and at this moment in time they have to be one of Manchester's best kept secrets. Last year's "Hard Drive" was an exceptional album and this self produced, self recorded follow up is a fair attempt at going one better. "Um And Ah" is a collection of perfectly formed tunes, each of which appear to be hewn from both the early 4AD and Californian rock movements, tinged with the dreamy, but pure toned vocal talents of Ms Hutchinson. "Ventura Sunset" and "My Friend" begin the album as two, bright shining songs, where the guitars ring out and the melody is underpinned by distant, yet effective harmonies. When the themes become slower, "Abandon Ship" has the added romantic zest of strings and a folkish, reflective flair and throughout the chord changes and song structures seem beyond impeccable and perfectly designed. The wick gets turned up for "Fake" which is a ground out, alternative rock tune with its simple riffs well placed to underpin the tag line. There are countrified jangles as the LP progresses and when Sam Forrest takes to the vocals on "Merry Go Round", it's proof enough of a definite change of flavour. Then the glorious off kilter moves of "The Way We Were" supply just another notch on the hit-o-meter, allowing the sanguine slow motion pulse of "Emilie" to almost slips us into a world of pretty shoegaze. "Good Time" is a wonderfully raucous clash of chords and melodics, with more of that peevish guitar tilt and before you know it, the drifting "Step Into The Light" takes us on the closing, candlelit journey.
Whilst there are respective careers for each of the two players that make up The Sorry Kisses, coming up with two mind blowing albums in two years is normally beyond the bounds of most artists, not least those in Manchester. It's a blissful form that just can't be ignored.
MMMM ½
Tracklisting
Download Album (DMM003)