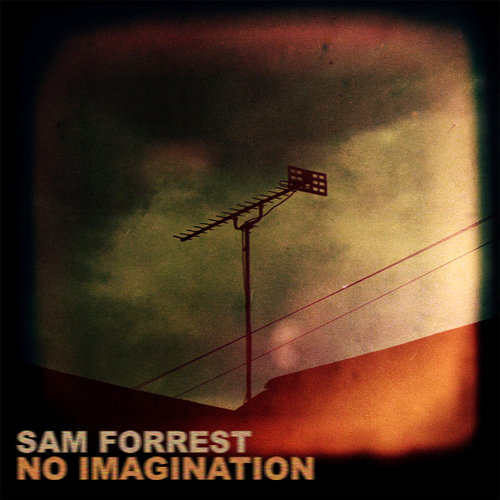 No Imagination
Available Formats
Tracks
Price
Buy
CD Album
10 tracks

£

7.99

Out of stock

Download Album (

MP3

)
10 tracks

£

7.99

Download Album (

MP3

)
10 tracks

£

7.99

Download Album (

MP3

)
10 tracks

£

7.99

Download Album (

MP3

)
10 tracks

£

7.99

Download individual tracks
From £0.99
Description
Sam Forrest - No Imagination
Sam Forrest is one of the fastest rising UK alternative acoustic artists, building on his work with the grunge-rockers Nine Black Alps and the fuzz-pop voyagers The Sorry Kisses. Sam has released two limited edition albums already over the past couple of years.

Recently Sam has been establishing his home studio, the Factory of Unprofessional Sound, as a key location in the North East of the UK for artists to explore new sonic territories that keep a raw and experimental edge. And 'No Imagination' is the fruition of time and money invested in lo-fi, yet extremely authentic sounds.

Sam's latest album envelopes the listener in waves of delayed feedback and ramshackle drum explosions whilst foregrounding Sam's highly melodic songwriting. 'Echo Godless' is a prime example of freeform lyrical dexterity building over a deceptively simple guitar riff gradually descending into layers of rolling drumloops and towering electric guitar feedback. Elsewhere the mood captures the eerie folk story-telling of the likes of Elliott Smith and Damien Jurado on tracks like 'Burnings Fields' and 'Land Of The Free', whereas the album's more upbeat moments like 'Second Doubts' and 'My Supernova' explore the same warped pop sensibility of noise mavericks such as Beck.
Reviews
From Manchester Music Online:
:: Sam Forrest ::
31 October 2010 / Desert Mine Music / 10 Trk CD
By JA
Sam Forrest (of Nine Black Alps fame) is very effectively forging his own solo career. With his work with Hayley Hutchinson via The Sorry Kisses gaining its own momentum, there's no creative shortage in the mind and hands of Mr Forrest as this third full length solo album, supplies more promising, introspective observations. For the best part of the LP, the guitar is picked or bustles with hints of West Coast folk or whispers of Americana. "Homesick Lullaby" offers both accessibility and tuneful interludes, as elsewhere muffled explosions of rock noise appear in the distant background. "Second Doubts" is rockier, benefitting from the build up of effects and guitar hook lines – "Land Of The Free" is one of the prettiest songs to be found here, which given the soft sonic focus of the other tracks, is saying something. A distinctively pretty album, where brilliant sunshine is tempered by emotional baggage and distant storm clouds – Sam Forrest can't really fail...
REVIEWSTALKER.COM
Please Meet Sam Forrest's Imagination
ALBUM REVIEW: Please meet Sam Forrest's 3rd solo effort No Imagination which finds him moving away from the straight up acoustic/folksy guy in the back shed to the do-it all himself rockband (including drums). This North Yorkshire creator/guitarist has added some noise on rediscovery of the sonic youth adding some nice layers of feedback to the palette of man vs songs and is at the top of his craft. No Imagination will give purveyors of sounds a couple subtle winterly chills that creeps in various textures along the way but even that would not do this release any justice. The music throughout seem to be telling us something; like on the song "The things you need" on the piano before it blares out into this lost episodic wall of feedback or some Jason Lytle(grandaddy) like dream in "Homesick Lullaby". The problem is these are Sam's dream-scapes and he's owning them all like "silent actors with broken tongues" there is a great escape in the mindscape. Connecting the dots organically like the steps one makes along a venerated decision tree wrapped in the plain old frustrations of making music you like,etc. Slightly maddening for sure and then what would it be like if you had no thoughts to build on?
Somehow musicians like Sam get to the sweet spot. Some of the vocals remind me of the recorded style of Elliot Smith and the gospel harmonization of David Crosby from If I Could Only Remember My Name…. all this mixed together like a kids water color painting –a little bury at times but the choices of color seem just right in these portraits. These obfuscations and strong song sensibilities are not unlike The Posies with a Revolveresque influence beening called into the outbuilding where this music was recorded somehow but I'm not sure which song voodoo is more prevalent other than to say it's spread out keenly with no drudgery on any given instrument. NI fires on all song cylinders not afraid to take risks in it's travels.

I don't think the journey to this point has been an easy one having his band Nine Black Alps being dropped by Island/Interscope Records for lack of sales (Happens a lot) and it obviously seems to have encouraged him to keep at it having had a taste of a band on the road to just keep making music with future releases planned out already. This is artist survival and I'll say the instinct has enabled something really great. If that were not enough he also has project with his girlfriend Hayley Hutchinson called Sorry Kisses. OK, I'll admit I never heard of either or Sam for that matter until literally 48 hrs ago but just goes to prove a point around the RSHQ. I still don't know anything. The world has been flattened by the internet and anything can happen or maybe not but one thing is for certain it's great listening to music that is the fruit of somebody else's labor of love. Enjoy.
Tracklisting
CD Album (DMM008)
Sam Forrest

- Burning Fields

Sam Forrest

- Echo Godless

Sam Forrest

- Homesick Lullaby

Sam Forrest

- Just My Imagination

Sam Forrest

- Second Doubts

Sam Forrest

- Drifter

Sam Forrest

- My Supernova

Sam Forrest

- Run Away With Me

Sam Forrest

- The Things You Need

Sam Forrest

- Land Of The Free
Download Album (DMM008)
Download Album (DMM008)