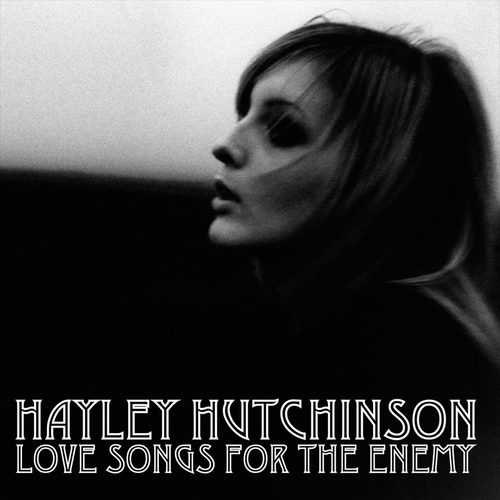 Love Songs For The Enemy
Available Formats
Tracks
Price
Buy
CD Album
10 tracks

£

4.99

Download Album (

MP3

)
10 tracks

£

7.99
Description
Hayley Hutchinson - Love Songs For The Enemy
'Love Songs For The Enemy' is the second album by the UK based singer-songwriter Hayley Hutchinson.

Recorded in a variety of locations from a farm in the shadow of the North York Moors, to a derelict church in North London, to a wooden cabin in the German Black Forest, 'Love Songs For The Enemy' saw Hayley take the role of co-producer alongside Iain Archer, 'Love Songs For The Enemy' which expands the sonic palette to explore a variety of moods and textures ranging from the delicate vocal harmonies and haunting grand piano of 'Store Fourteen' to the rickety banjo and lap-steel of 'Somewhere Inbetween' that recall Neil Young at his most rustic.

Lyrically, 'Love Songs For The Enemy' examines a range of new themes and feelings from the heartbreakingly beautiful Gillian Welch inspired 'Only Your Words' to the epic Dylan-esque storytelling of 'Anna Karina' and the biting social commentary of 'Scene Of The Crime'.

Above all it is the purity of artistic vision and Hayley's exceptional voice that command attention, none more so than the bare boned beauty of 'Leave It Alone' that delivers the album's most transcendent moment and with it firmly establishes Hayley Hutchinson as a unique and fiercely individual presence on the musical scene in 2008.
Tracklisting
CD Album (HMCD003)
Hayley Hutchinson

- All I Have

Hayley Hutchinson

- Only Your Words

Hayley Hutchinson

- Be Alright

Hayley Hutchinson

- Some Days

Hayley Hutchinson

- Anna Karina

Hayley Hutchinson

- Store Fourteen

Hayley Hutchinson

- Somewhere Inbetween

Hayley Hutchinson

- Leave It Alone

Hayley Hutchinson

- Love Song For The Enemy

Hayley Hutchinson

- Scene Of The Crime
Download Album (HMCD003)