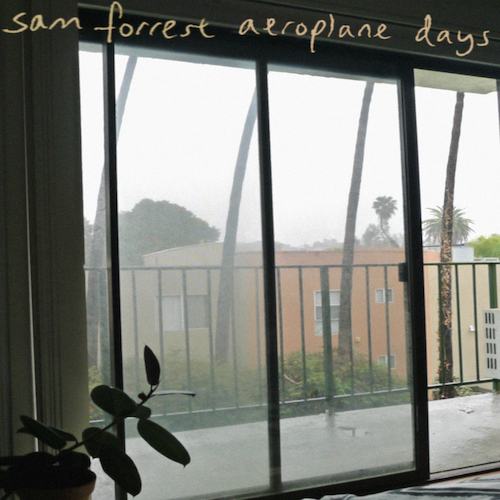 Aeroplane Days
Available Formats
Tracks
Price
Buy
Download Album (

MP3

)
10 tracks

£

7.99

Download individual tracks
From £0.99
Description
Sam Forrest - Aeroplane Days
Aeroplane Days is the latest album by the English singer-songwriter Sam Forrest. The album was produced by Sam and Micah Calabrese over two years between 2019 and 2021. All ten tracks began as acoustic demos recorded by Sam in his home in North Yorkshire, but the album gradually evolved as Sam sent music to his collaborator Micah in Los Angeles.

Some songs like Could've Been A Dancer and Dog On A Leash retain their sparse acoustic feel with occasional psychedelic touches like delayed electric guitar and Hammond organ drones. Other tracks like album opener A Place To Hide and The Best Is Yet To Come take the chamber-pop approach to sit somewhere between mid-period Beach Boys and late-era Elliott Smith. Final track, Walking On Water even abandons the guitar completely to feature little but pounding drums and arpeggiated synthesisers.

It's the ninth solo album that Sam has released and it is his most fully realised record yet. Previous albums have explored everything from acoustic minimalism to feedback-laden dream-pop. All of which is a far cry from the heavy rock of Sam's band, Nine Black Alps, and Micah's previous outfit, Giant Drag.

Aeroplane Days will be released on cassette by Hidden Bay Records and digitally by Desert Mine on 10 September 2021.
Reviews
'Trying to keep the checkers on the board while you hold it on your bike handles.' Small Albums
'Feel like you need a mid-morning pick me up? Were you a fan of early Brendan Benson, or late Elliott Smith (I mean, we all were, right?)? Well, then join me in spending a bit of time with Sam Forrest, an English songwriter who just announce his latest record, Aeroplane Days. This tune's got that driving stomp backing up a nice little strum, with Forrest taking up those wispy vocal notes. One of the reason's I've been gravitating towards Sam's stuff is that there's definitely a solid blend between finer intimate moments between he and the listener, balance evenly by buoyant pop feels that pervade the record…as you can see here. If you dig, its out via Hidden Bay Records and Desert Mine on September 10.' Austin Town Hall.
'Trays and trays and trays of tall glasses of orange juice all over the floor in the house that just sold.' Small Albums
Tracklisting
Download Album (DMM063)